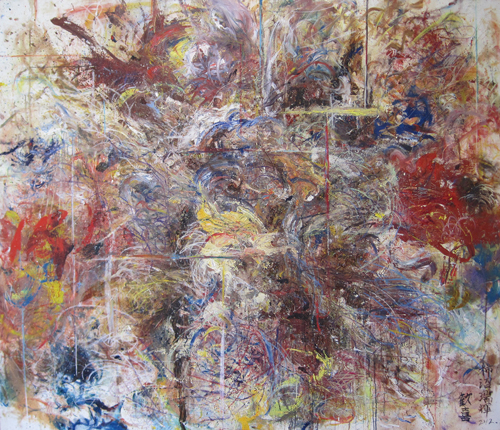 Mizuki Kakinuma
Nov 18 - Dec 8 , 2013
Mon-Sun 11:00-19:00
The artist will be at the gallery:Nov 22 & 23
Humans have expressed the fundamental feelings of sadness, happiness and despair through the physical action of art making.
In the 10,000 year history of the fine arts, human creativity has produced a variety of things which cannot be expressed linguistically.
It's as though a creature comes out from the depths of the human being who cannot explain things through language.
The creature is usually repressed by society, but when the social system becomes weak, the primitive things will appear.
The primitive things are the impetus for the work of Mizuki Kakinuma.
Additionally, Japan does not have Western individualism or monotheism and is a pantheistic society which has been coexisting with nature for a long time.
A poetic sentiment obtained from this connection with nature can be seen expressed in the strokes of Kakinuma's works.

WORK / Abstract Expression, 2012, oil on canvas, 1620x1940mm, (c) Mizuki Kakinuma

Mizuki Kakinuma
1989
Born in Tokyo, Japan
2011
Graduated from the Department of Fine Arts: Oil Painting, Tohoku University of Art and
Design
Lives and works in Saitama Prefecture
Solo Exhibition
2012
"Mizuki Kakinuma solo exhibition" (Yoshimi Arts/Osaka)

Group Exhibition

2013
"Figurative Abstraction" (Yoshimi Arts/Osaka) 
Insight 8 "Figurative" (Yoshimi Arts/Osaka) 
2012
"Primitive [ in order ]" (Yoshimi Arts/Osaka)
2011
"Physical side" (Yoshimi Arts/Osaka)
Public Collection
Japigozzi Collection