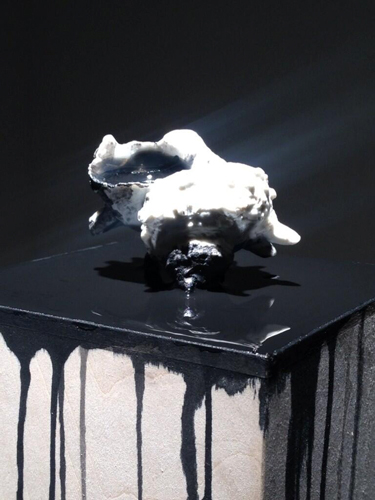 Quiet Storm/KAMIDE KEIGO
Jan 31 - Feb 23, 2014
Mon-Sun 11:00-19:00
January Party (opening reception): Jan 31, 18:00-
Yoshimi Arts is pleased to announce the "Quiet Storm" exhibition by Keigo Kamide.
Keigo Kamide is the sixth generation heir of Kamide Choemon-gama Kutani pottery which is a 135-year-old pottery manufacturer. He has acted as director of Kamide Choemon-gama and has exhibited his own works as an independent artist.
At Yoshimi gallery, he held a solo exhibition "Isolated"(2011) as a tribute to pioneers and his forefathers, inspired by a trip to the birth place of Kutani ware. Next, in his solo exhibition "Floating"(2013), he tried to imagine the future which the pioneers and forefathers might have followed.
He showed two worlds - past and future- through the history of Kutani ware.
In 2013, he had a solo exhibition for the seven-artist project, "The Earthly Paradise", organized by Yasuyuki Nakai (curator of National Museum of Art, Osaka) at Musashino Art University's gallery αM. In this current exhibition, the work, 'Turban Shell "Shell in Sea of Ink"', was set apart from the other works.
It can be considered Kamide's self-portrait and it will be the focus of the exhibition.

Image: Turban Shell "Shell in Sea of Ink", 2013, porcelain, chinese ink; exhibtion view <"The Earthly Paradise" vol.3 Keigo Kamide> gallery αM 2013; photo: Keigo Kamide

Keigo Kamide  artist page≫
1981
Born in Ishikawa Prefecture, Japan
2011
BFA, Department of Fine Arts: Oil Painting, Tokyo University of the Arts
Solo Exhibition
2013
αM Project 2013 "The Earthly Paradise" vol.3 Keigo Kamide (gallery αM/Tokyo)
"Floating" (Yoshimi Arts/Osaka)
2012
"Bananas" (pARa:siTe/Ishikawa)
2011
"Isolated" (Yoshimi Arts/Osaka)
2010
"Kutani Connexion" (Spiral Garden/Tokyo)
2009
"Art / Craft" (Oukashorin/Nagano)

Group Exhibition

2013
"Kutani Wagatani" (G-WING'S Gallery/Ishikawa)
'Renew Japanese Tradition "Shou"' (Wako Hall, Wako(Ginza)/Tokyo)
2012
"Primitive [ in order ]" (Yoshimi Arts/Osaka)
2011
Insight "Repetition" (ART OSAKA - Yoshimi Arts/Hotel Granvia Osaka/Osaka) 
2010
"BASARA" (Spiral Garden/Tokyo)
"First International Triennale of Kogei in Kanazawa" (21st Century Museum of
Contemporary Art, Kanazawa/Kanazawa)
2009
"Medicine and Art" (Mori Art Museum/Tokyo)
Public Collection
21st Century Museum of Contemporary Art, Kanazawa
Nomi City